The Department of Mathematics of the University of Georgia is a vibrant mathematical community. The department has held an NSF VIGRE workforce grant and an NSF VIGRE II workforce grant for 12 years, and more recently a $2,000,000 NSF Research and Training Group (RTG) grant (2014-2022). These grants provided additional financial support for graduate students, and stimulated research and teaching collaborations among the mathematics faculty, postdoctoral associates, graduate students, and undergraduates.
We are noted for the friendliness of our faculty and students, and for our flexibility in adapting programs to the needs of each individual student. The department has particularly active research groups in additive combinatorics, algebra, algebraic geometry, analysis, applied mathematics, geometry, number theory, and topology.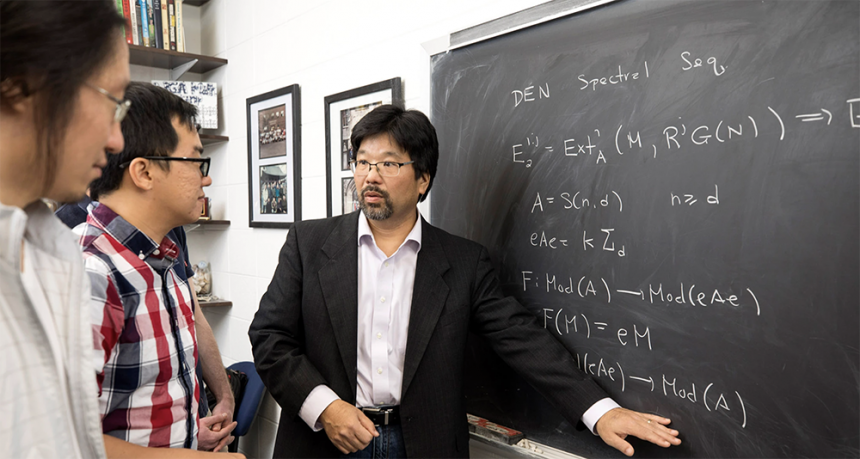 New Graduate student orientation
August 11-16, details here
Important Notice
Fall 2022 Qualifying Exam Schedule
Monday, August 15
9:00 AM – 12:00 PM               Room 304 Boyd 
Topology Qualifying Exam
2:00 PM – 5:00 PM                 Room 304 Boyd 
Real Analysis Qualifying Exam
Tuesday, August 16
9:00 AM – 12:00 PM               Room 304 Boyd 
Complex Analysis Qualifying Exam                        
2:00 PM – 5:00 PM                 Room 304 Boyd 
Algebra Qualifying Exam
Program Information and Resources
Graduate Degree Programs
Detailed information about our graduate degrees including the MA and PhD degrees.
How to Apply
Information for prospective graduate students.
Written Qualification Exam Study Guide
Find out how to study for the written qualification exam. 
Awards
Find out more information about awards given to graduate students. 
Prospective Students
For students looking to join the department.
Current Students
Information for students who are already a part of the department. 
Graduate Guidebook
All the information that prospective students need to know before applying.